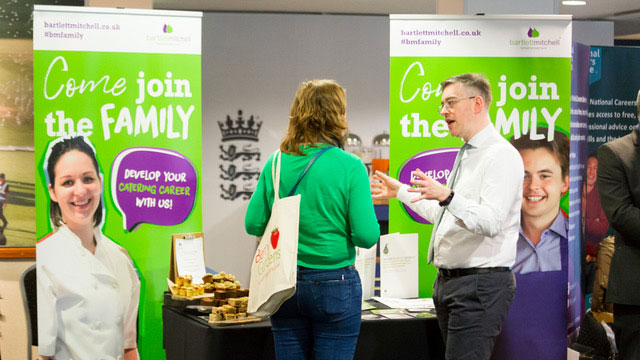 The secret to how the #bmfamily💜💚 wins awards
We are often asked why we win awards? There's one reason, it's because we have a great team. Recruiting the right people is hard but we always recruit team members who share our FOODIES values.  The letter O stands for "OBSESSIVE about our people".  One way we learn about what makes potential team members tick is by inviting them to our recruitment open days. It's an informal way for candidates to talk about themselves in a relaxed environment and get a feel for bartlett mitchell. All we ask them to bring is the best version of themselves and their CV.
What happens at our Recruitment Open days?
It is an opportunity to meet a wide range of our team. Meeting our managing director, managers and team members gives candidates a feel for our FOODIES culture. Candidates see how we work, learn about our contracts, and find out what it is like to be part of the #bmfamily💜💚
There's always a warm welcome with a delicious selection of home-made refreshments. First impressions count and this demonstrates our "Fundamentally Food" focus.
Candidates have a chance to:
Discuss our training and development programmes
Hear about the real-life stories that showcase the career possibilities with us
Experience our commitment to reducing our impact on the environment
Learn about our responsible and ethical approach to business
Find out about the excellent benefits package we offer
80% of the leaders in the UK hospitality industry have worked their way up through the ranks.  This is true at bartlett mitchell. Our Founder, Wendy Bartlett, started her career working in the pot-wash. That's why developing our team members is important to us.
It's an interactive day…
A friendly chat with a manager gives candidates' the chance to talk about themselves and ask us questions. We outline our job opportunities and discuss how these fit with candidates plans and ambitions. We keep a copy of candidates' CVs for our talent bank.
We enjoy meeting potential team members at Open days. It gives us the chance to showcase our pride in the #bmfamily??. The atmosphere is relaxed and friendly. Attending an Open Day gives candidates an advantage, because we get to know them quickly. Which means we are confident to suggest the best role for them to fit in our business.
You can find out more about the opportunities available here
Interested?
If you know anyone who would like join the #bmfamily💜💚 ask them to email our Talent Managers, Murray or Stephen so we can put them on the guest list. [email protected] or [email protected] 
Share on: