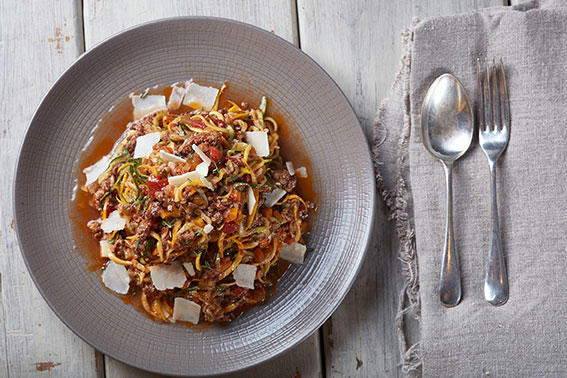 Ingredients
1 small onion, diced
1 carrot, peeled & finely diced
1 stick celery, finely diced
300g quality lean minced beef
125ml red wine
300g tinned chopped tomatoes
1 bay leaf
4 large courgettes
Olive oil
Sea salt
Fresh oregano leaves Parmesan to finish
Method
Make the ragu; sweat the garlic, onions, celery and carrot in a little oil and a large pinch of salt.
Increase the heat, add the beef and bay leaf and cook until browned.
Add the wine and reduce by half.
Add the tinned tomatoes and simmer for 90 minutes.
Using a spiralizer, shred the courgettes.
When the ragu is ready, place the courgette spaghetti in a bowl and mix through the hot ragu.
Portion into bowls and top with fresh parmesan and some fresh oregano leaves.
NUTRITION: 246kcal, 9.9g fat, 4.1g saturates, 7.7g carbs, 7g sugars, 4.2g fibre, 23.2g protein, 0.34g salt