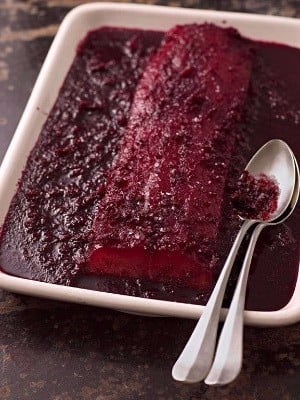 Ingredients
1 filleted side salmon (weighing 1kg)
250g caster sugar
250g sea salt
250g raw beetroot
1 large orange
a handful (10g) lemon verbena tea leaves
1/2 a bunch dill
Preparation
Weigh the salmon accurately, to check that you have the right quantity of sugar and salt for the cure. The sugar and salt combined in equal quantities should be 50 per cent of the weight of your fish.
Remove the pin bones from the salmon and score the skin in 4 places to allow the cure to be absorbed. Wash, peel and roughly chop the beetroot.
Peel the zest from the orange and reserve, then halve the fruit and squeeze the juice.
Method
1 Put the sugar and salt into a food processor. Add the beetroot, tea leaves and dill with the orange zest and juice, and blend to a fine pulp. Lay the salmon skin-side down in a shallow ceramic dish and cover completely with the cure mixture. Cover the dish with clingfilm and leave the salmon to cure for four days in the fridge, turning the fish and basting it with the cure mixture after two days.
2 When the curing time is up, scrape the cure off the salmon and lift the fish out of the dish. Rinse the remaining cure away under cold running water, then pat the fish dry with a cloth – the flesh will be bright red and firm to the touch.
3 Starting at the wider end of the salmon, slice thinly with a sharp knife angled slightly towards the opposite end of the fish, stopping just before you get to the skin. I then lay these slices on a plate (allowing 6 slices per person) and accompany them with sourdough bread and pots of goodies like caper berries and pickled beetroot.
Tip
If beetroot isn't your thing, simply omit it and add whatever takes your fancy – as long as the flavours are pronounced. A few of my favourite ingredients are star anise, grapefruit and basil. Treat the grapefruit like the orange in the recipe, and blend to a pulp in the food processor with the star anise, a handful of basil leaves, the sugar and salt. The blend will not be eaten, so chunky pieces are fine.