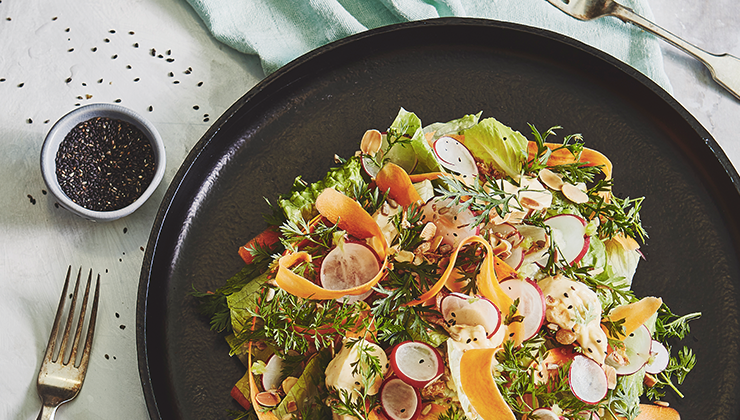 Ingredients
FOR THE 'RANCH' DRESSING
60ml chickpea water, from drained tinned chickpeas
15ml lemon juice
10g French's mustard
1g cayenne pepper
2g garlic powder
250ml olive oil
Sea salt
FOR THE SALAD
1 head cos lettuce
6 radishes
1 leafy carrot
30g flaked almonds
30g sunflower seeds
20g crispy onions
Bursting with colour and taste, this salad from our Vitality range is easy to make and delicious.
Method
First make the dressing; place everything except the oil into a blender and blend together, with the motor running slowly pour in the oil. You may have to thin this with some water if it's too thick, you are after a natural yoghurt consistency. Check the seasoning and set aside in the fridge.
Put the almonds and sunflower seeds onto a roasting tray and cook at 170°C for 10 minutes or until lightly toasted.
Cut the lettuce into good sized pieces about 5cm and place in a bowl. Thinly slice the radish and add to the bowl.
Pick any carrot leaves off the top of the carrots, wash and set aside.
Peel the carrots then continue to use the peeler to get nice even carrot strips and add to the salad bowl.
Spoon in a couple spoonfuls of the dressing and stir to coat all the ingredients together. Test the seasoning, adding more salt or lemon juice if needed, plate and top with the seeds, nuts, onions and carrot tops.