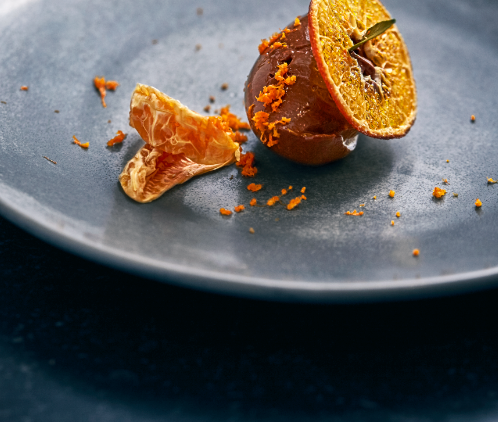 Ingredients
Caramel
115g sugar
4.5g salt
Crème anglaise
250ml Milk
125ml Double Cream
1/2 Vanilla Pod
Caramel
10 Egg yolks
Cremosa
450ml of the crème anaglaise
150g Good quality 70% chocolate
Clementine
6 Clementines
60g Clementine leaves
250g Caster sugar
1 Litre water
1 Star anise
Introduction
'Cremosa' is simply the Spanish word for mousse, but this recipe is essentially a variation of the great British classic of Chocolate custard. It's incredibly simple, yet done in a way where the chocolate and custard are emulsified to create the perfect balance between the richness of the egg and the bitterness of the chocolate.
Clementine
1- Peel and segment 5 clementines and remove all the pith.
2- Make a simple stock syrup by mixing the 250g sugar, water and star anise in a sauce pan. Keep stirring as you bring it to a boil. Allow it to cool.
3- Place the clementine segments into the cooled stock syrup, and let it steep for 24 hours.
4- Remove the segments from the syrup and place into a dehydrator set at 57°C for 12 hours. If you don't have a dehydrator, use an oven on full fan set to 50°C overnight.
Caramel
1- Place the sugar and salt into a pan with a splash of water.
2- Bring up gently over the medium heat; make sure there is no sugar on the side of the pan. Cook to 161°C, (or until dark, rich caramel forms).
Crème Anglaise
1- Pour the caramel into a large bowl and add the egg yolks.
2- Boil the milk, cream and vanilla add 60g clementine leaves. Pour over the egg yolks and caramel whilst whisking.
3- Return the custard mixture to a pan and cook until thickened and coating consistency. Pass this through a fine sieve and retain.
4- Using a blender, preferably a thermo mix, blend the chocolate and crème anglaise together until glossy.
5- Place into a plastic container and allow to cool. Refrigerate overnight.