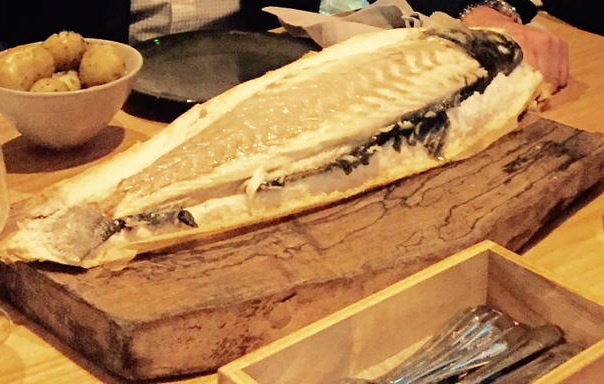 Ingredients
2kg seabass
2kg table salt
500g egg white
1 fennel (sliced finely lengthways on a Japanese mandolin
5 breakfast radish, sliced
1/2 bunch of dill (picked large)
80g potted shrimp
Olive oil and one lemon for dressing the salad
Potted shrimp (makes 4)
100ml melted butter
2g mace, nutmeg and Cayenne pepper
250g brown shrimps
2 small shallot, finely diced
1 lemon (zested and juiced)
¼ bunch of dill, finely chopped
Pepper and salt
Preparation:
For the spiced butter:
Place all ingredients into a pan and melt the butter, infuse it for 1 hour and strain off the clarified butter.
For the potted shrimp:
Combine all the ingredients. Must keep chilled.
For the salt crust:
Take the salt and place into a large metal bowl, slowly bit by bit add the egg white and mix well until you achieve the consistency of wet sand.
For the sea bass:
Scale, remove the fins and guts, gently wash and lay on a tray ready for the salt crust, bake for 20 minutes to 25mins in an oven pre heated to 210 degrees celsius until the crust is golden in colour. Test that the bass is cooked by inserting a knife into the thick part of the flesh and ensuring that the fish has reached 38 degrees celsius.
To build
Toss together the sliced fennel, radish and dill, season with lemon juice and olive oil,spoon in the potted shrimps and mix well.
Serve the salad on plates and the fish in the centre of the table.