Christmas is a time to think about others and to remind ourselves about what's important. This Christmas we wanted to share some comfort and joy, whilst giving to others and helping make a difference to our local communities.
Behind every meal there's something more
We embraced the togetherness spirit of Christmas at our 'Comfort and Joy' supper. We celebrated with our clients and #bmFamily💜💚 and friends at St Cuthbert's Church in support of the Refettorio Felix project. The word Refettorio comes from the Latin reficere, meaning 'to re-make', but also 'to restore'. St Cuthbert's has operated as a day centre in Earl's Court catering for people in need for over 30 years.
 Refettorio Felix is all about strengthening communities. It is an amazing organisation that delivers positive outcomes from shared meals made from surplus ingredients. They want to create a more equal and more caring society that supports and empowers everyone to live full lives. This aim is close to our heart. As one guest said, "It was an evening that perfectly encapsulated BM's values"
The #bmFamily💜💚 eating together
In only two hours, our crack BM team transformed St Cuthbert's Church Hall in to a magical and cosy winter wonderland. Gathered around one large table with sharing platters, it felt like a dinner party in a friend's home.
In the spirit of Refettorio Felix, Pete Redman and Phil Leicester inspired the #bmFamily💜💚 chef brigade to deliver a thought-provoking sharing menu using food that would otherwise have been wasted. Their scrumptious menu delighted all the senses and brought comfort and joy to everyone around the table. As one guest put it, "The best event that I have been to for for a long time. Your team is inspirational, and the food and atmosphere were wonderful!"
Thank you to Julian Fris' whose jazzy festive piano tunes helped to create a fun and festive ambience. We loved the moment he played the Pink Panther theme tune to announce Wendy Bartlett's welcome speech!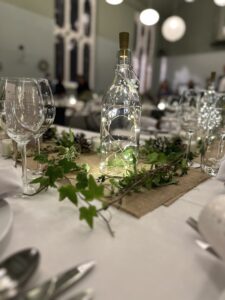 Ordinary to extraordinary
We bought Massimo Bottura's 'Bread is Gold' book for our guests to take home. This was another way we were able to contribute to the charity's funds. In 'Bread is Gold', chef Massimo shows how food waste can create extraordinary dishes. It contains recipes from the world's top chefs, including Daniel Humm, Mario Batali, René Redzepi, Alain Ducasse, Joan Roca, Enrique Olvera, Ferran & Albert Adrià and Virgilio Martínez.
Giving back
Every guest was asked to bring warm hats, scarves, socks and gloves to place under the Christmas tree. We collected over 300 items from our generous guests. These have been given to the Warming up the Homeless Hastings charity. George Rodrigues, one of our senior hospitality managers has been volunteering with them for the past 3 years. Trudy Hampton, Chief Executive said, "On behalf of the homeless men, women and children we serve, thank you".
 On what several guests described as a "very special evening", we were reminded that Christmas is not about overindulging or extravagance it's about compassion and caring for others.

Share on: