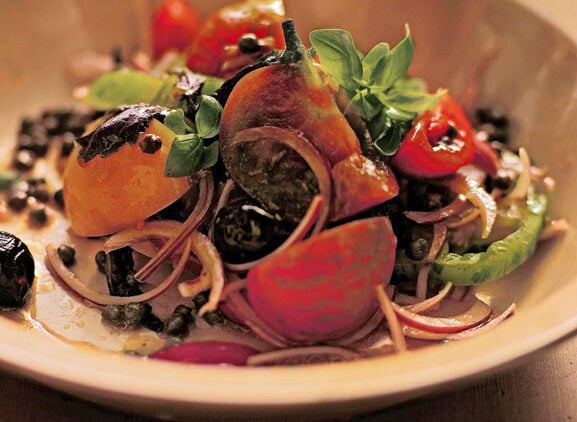 Ingredients
1.5kg ripe heirloom tomatoes
300g black olives (Kalamata have the best texture for this dish)
200g fine capers
1 large red onion
1 bunch opal or green basil (or a mixture of the two)
240ml good quality olive oil
Sea salt and freshly ground black pepper
To serve
Crusty bread
Preparation
Cut the tomatoes according to their ripeness: slice the firmest ones and quarter the softer; leave whole or halve any that are small and tender. Remove the stones from the olives. Quickly rinse the capers under the cold tap to remove excess acidity. Peel the onion and slice as finely as possible. Pick the leaves from the basil and tear them.
Method
Toss the olives and capers in a large, flat serving bowl. Add the onion, tomatoes, basil and olive oil, season with pepper, and toss all the ingredients together until evenly mixed. The most important ingredient now is the salt, you will need more than you think. Add it gradually until you can taste it, then leave the salad for at least an hour (preferably overnight). The salty taste will dissipate during this time, and leave you with a well-seasoned salad. Serve with crusty bread.
Tip
If you leave the salad overnight, cover the bowl and keep it in the fridge, then allow time for it to come to room temperature before serving.